It has been over 6 months since I had visited Sedona. Do not really know whether I will be able to portray all that I experienced, or some imaginations will creep in according to my perceptions at present. However, I will try my best to be honest with my writing.
Beginning of the trip wasn't that encouraging. We started driving in the middle of a storm, which had several flash flood alerts in different parts of our route. We had to overcome a lot of hassles in finding proper overnight accommodation in Phoenix. As we started in the next morning, heaven wasn't in a mood to show mercy. The drizzle was steady and was accompanied by patches of heavy shower.
Needless to say driving was not easy. The gloomy weather further subdued our spirits. Somehow we managed to conceal previous night's fatigue and looked forward to having a good time.

The drizzle thinned and the rain stopped after sometime. Aware of the forecast, I tried not to be optimistic. Just kept my eyes open, to observe the gorgeous scenery that were presented along the route. We stopped at a small Regional Park and I welcomed that opportunity to stretch my legs. On multiple viewing of the surroundings, I could realize we were in the middle of a hill station. Moderately high rocky structures were scattered everywhere. Little pockets of cloud clung to their peaks and seemed to make them taller than they actually were. I was delighted to feel the cold breeze against my face. The smell of moisture in the air, along with scenic beauty washed away all our stress and doubts
that had accumulated over the past 24 hrs.
We resumed our journey and headed towards the proper town. The freeways turned into streets, and led further into narrow roads across a small downtown. To say it was crowded would be an exaggeration. But considering the atmosphere and moderate traffic on our route, this seemed to be a fairly busy place. People were hopping along the streets and many of them were carrying umbrellas. The colorful buildings were evenly placed on both sides. They provided a visual relief, after our eyes were tired of watching the dull cloudy skies for the past three hours. Moving along, I saw many artistic ornaments displayed in various kinds of shops. You could easily call them small art galleries. I felt like stopping at each one of them but resisted the temptations for the time being and came to Sedona Heritage Museum.
The museum was in a relatively open area. A chilled breeze greeted us at its doorstep. The location was not too different from the place where we had stopped earlier, but it was
definitely cooler and I assumed that we had come up to a higher altitude now. The museum boasted of preserving the history and the foundation of Sedona. It had records and facts of the key events, presented antiques and mock ups from the very beginning of this town. It was fascinating to imagine how it would have been with a single family living in a single house, what it would mean to be in their situation, trying just to survive in the middle of nowhere. And did they ever think their efforts will gradually expand to a region having a
 population of 10000 people. I wondered if this is exactly how these places are supposed to grow. I am sure the each and every city of this world has its own interesting story to tell. Only if I had that much time to travel around and explore all of what they have to offer.
Moving on to our next stop, Red Rock State Park, I was able to catch further glimpses of how beautiful this town was. The rocks were bearing a darker shade after getting soaked with water. Sky had become brighter now and could walk freely. We didn't worry about getting wet and started walking on a two- mile trail around the park.
Humidity and dampness surrounded the park and very few people were around. Rustling of leaves and chirping of cricket was filling every corner. It was enough to deepen the silence. It was calm and peaceful. A little further inside, it was spooky feeling to it. Or should I say creepy. This could have been a perfect backdrop for a horror movie shoot.
The State Park had also witnessed its fair share of history. The House of Apache Fires is very popular and one of the oldest housing structures. This, itself, has given rise to too many theories and stories about its origin. I will spare you from my own versions. Interested readers can find more details in the References section. I wished I could have been here during sunset, with golden rays illuminating the reddish hills. It was impossible for a glimpse of the sun, which remained hid behind the clouds. I felt sad as it was not happening in this trip.
Last but not the least, I had to go back to the downtown area. The local heritage and look and feel of the local sites is what attract me most. The place was full of cowboy themed stores. The reason was not too difficult to understand. Arizona was at the heart of famous Hollywood Western classic flicks. It had the cowboys for centuries. Shops were selling paintings, photographs, showpieces, magnets from the state of Arizona as well as the surrounding states. They were promoting handicrafts from many local Indian tribes. The price tag were not cheap at all. Still that one question remained — Whether these artists were getting recognized and properly paid for their talent.

Their work was mainly based on the theme of Kokopelli, the fertility God. As the legend goes, this religious figure was a trickster along with being associated with fertility, spring, marriage and other auspicious occasions. Needless to say they believe it to be a lucky charm. I too did buy a magnet with Kokopelli on it. I intended to get a souvenir and would have gladly accepted if any luck came along my way!! Some of the articles also showcased the picture of Saguaro cactus tree on them, which I found later on, had no connections with the State of Arizona.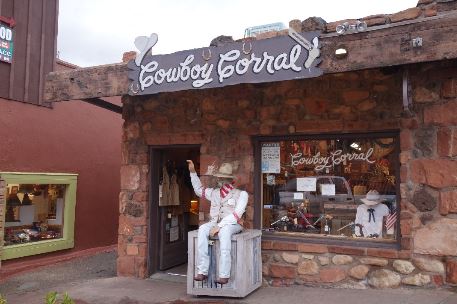 Sidewalks had a flurry of people once in a while. Other times it was quiet and lonely. Some of them were going over their shopping lists. Few were making plans of the upcoming
Sunday. Others were simply wandering here and there without any proper destination in mind. Looked like they were enjoying the cool walk more than anything else. The ground was still wet from the showers. So people were cautiously moving around. A feeble but steady melody, was flowing into my ears. Then I saw a musician playing a violin merrily, lost and engrossed in her own world of fantasies. Sitting in a corner of an open restaurant, were a group of old people. I guessed they were cracking jokes as there were occasional bursts of laughter. Ambience was certainly cheering up and the day was bound to end on a high note.
Most of Arizona is desert and it experiences hot and humid weather throughout the year. People here are not too accustomed with continuous rainfall, and more so, because of the dry winter season. For me this is what added glamour to this already charming place. Like it had been caught off-guard and had to dress herself like the rainy season on what should been a dry winter weekend.

My heart was already content with all the simple yet beautiful and picturesque views. Just as last rays of the light faded, I sipped on cup of hot coffee. This was an apt ending to a day, which gave me a lot of memories to cherish for a long time.
References
House of Apache Fires
http://www.sedonalegendhelenfrye.com/1947.html
Note: – I went to this weekend trip with a colleague of mine and his family. The views and thoughts expressed in this article, are entirely mine.