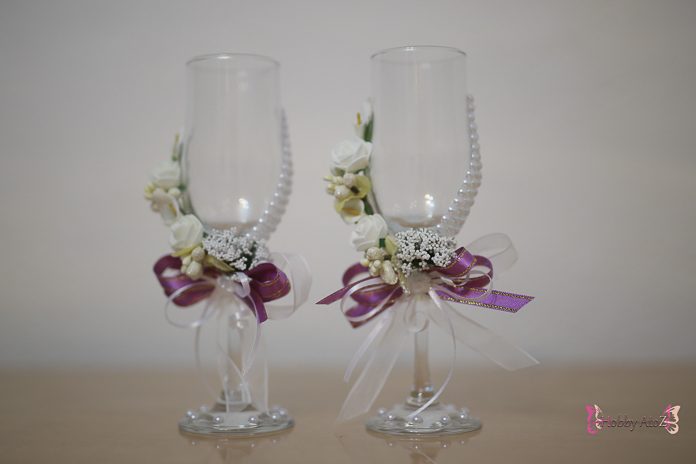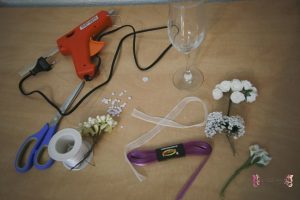 For this project you will need:
-two glasses for wine or Champaign
-hot glue gun
-broken pearls for gluing
-scissors
-different types and shapes of flowers
-some branches
-different sizes and colors of satin ribbon for bow
Take one glass and start gluing the pearls in a diagonal line starting from the bottom of the glass going to the top as you can see on the picture.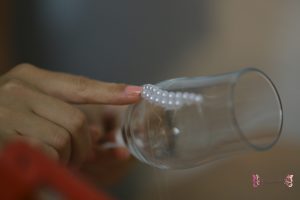 For the first line I've used 18 pearls. Starting from the top of the previous line of pearls count three pearls down and start gluing down the second line right next to the first one.
Repeat the same procedure for the third line of pearls. At the end you should get something like in the picture below.
Now, you are going to glue some pearls on the bottom of the holding place of the glass. I've left some space between every pearl, but it is optional. Do like you think it looks the best.
Take some white wide ribbon and make a bow. Make sure that you have some longer end hanging down. For the next step I've used purple ribbon, thinner that the white one. Make some double bow with it, wrap it twice across your arm and wrap it in the middle. And finally take some white ribbon thinnest from the previous, make a bow for the middle leaving some longer end for hanging and glue a pearl in the middle. You should get something like this.
Make a floral branch with the flowers and the branches. Combine them as you want.
Glue the branch on the opposite side of the pearls as you can see on the picture.
Glue the bow on the bottom of the glass and you have perfect wedding glasses.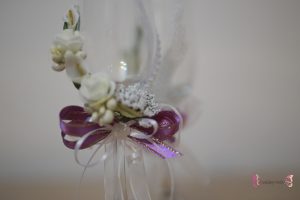 Additional advice: You can always use different colors of ribbon and pearls. Let your imagination drives you.
Watch out the videos for more easy understanding.
Thanks and enjoy