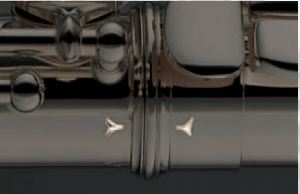 Traverse flute consists in three pieces, they are headjoint, body and footjoint. They must being assembled like this:
The keys center in the body have to coincide with the main axis in the footjoint, as being presented in the picture.
An imaginary line may helps to have a correct alignment between pieces. Just make sure to match the center of mouthpiece and body's keys.
Some flute brands brings an alignment marks in order to
facilitate proper fitting by young players.