For this DIY project you will need:
scissors
pliers
different types and sizes of flowers
peace of wire
hot glue gun
cup and saucer
some branches and leafs
 First you will take the wire and fold it with the pliers. You are going to fold the two ends. The one needs to form angle of 900, that part will be standing on the saucer. The other end will be folded creating an angle of around 1300 and that part of the wire will be inside the cup.
Now, take the wire and glue it inside the cup with the side of the 1300 angle. Put some hot glue, place the wire, let the glue cool down and put another bigger layer of glue again. Repeat this procedure until you are satisfy with the look and the strength of the wire. Repeat the same procedure with the other end of the wire and the saucer. Be patient, add a few layers of glue holding the wire at one place until the glue cools down. You should end up with something like this.
Now comes the fun part, decoration. Take some of the bigger flowers and glue them on the bottom of the saucer. I've used only three bigger flowers. It depends of the size of your saucer.
Take some from the smaller flowers and start gluing from the inside of the cup. Mix the colors and the branches to cover the wire.
Make sure that you cover the wire from the both sides, front and back.
Than you can add some leafs and a few more flowers until you are satisfy with the look.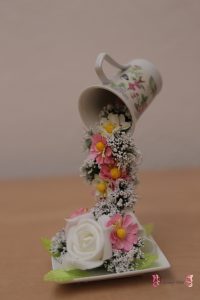 And voila, you have a floating floral cup.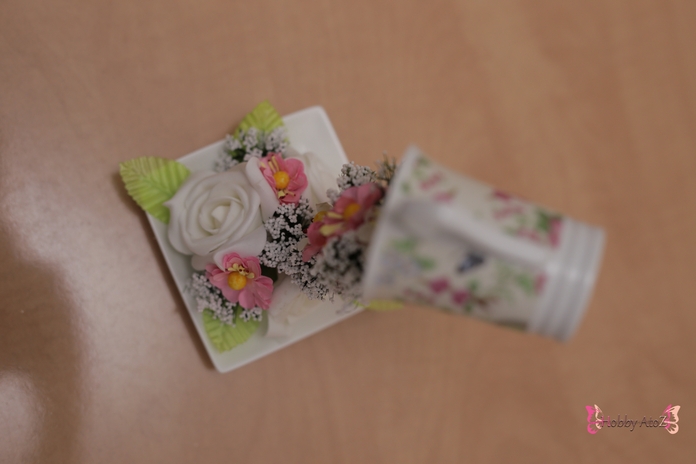 You can always use different sizes and forms of cups and different colors of flowers. Use your imagination.
Watch out the video for better understanding.
Thanks and enjoy